[Context] Bangladesh tests climate finance for disaster-hit communities
मे 31, 2023
Md. Tahmid Zami
30th May 2023
What's the context?
As rural Bangladeshis lose crops and homes to climate change impacts, insurance and microfinance could offer some protection.
Development organisations try new approaches to help families
Insurance, bonds and microfinance among key instruments
Poorest, including farmers, need tailored support
DHAKA – On the sandy soil of the Padma riverbank in central Bangladesh, Salma Akhtar, 35, cultivates maize and onions to support herself and her school-age daughter.
But each year, at least once between May and October, floodwaters erupt into her village in Faridpur district, wreaking havoc on the single mother's crops and home.
Like Akhtar, over four-fifths of rural Bangladeshis face more intense and frequent climate-linked disasters as the planet warms – and they are spending an estimated $1.7 billion a year to build back their shattered lives, according to a 2022 study by the International Institute for Environment and Development.
To help get more financial support to poor households so they can better protect themselves, local and global organisations are testing new approaches like grants, loans, insurance and green bonds.
Akhtar, for example, recently received a small grant from the international development charity Practical Action to raise the plinth of her house to a level flooding cannot easily reach.
The programme falls under the Zurich Flood Resilience Alliance, an international collaboration seeking to minimise losses for poor households by providing funding when it is most needed – in advance of, during, or right after a flood.
Early warning systems are another key way to minimise disaster risks for communities and enable them to prepare ahead of extreme weather events.
The World Meteorological Organization this month said early warning has played a big part in lowering the death toll from disasters in recent years, while economic losses have soared.
Bangladesh has a national-level early warning system in place for disasters like cyclones and floods – but to bolster the resilience of people on the ground, Practical Action has developed a system to disseminate information locally.
That includes electronic boards at local government offices showing weather-related information and phone voice messages sent out ahead of potential threats like floods.
Practical Action has also trained volunteers, including Salma Akhtar, to raise awareness about disasters and protection measures among community members including women.
The volunteers hold neighbourhood meetings, explaining to villagers how to raise up their homes or set up goat sheds on high ground to keep property and animals safer during flooding.
In addition, Practical Action is exploring an insurance programme to mitigate risks for farmers in Bangladesh.
Colin McQuistan, Practical Action's head of climate and resilience, said that, for insurance to work, "there has to be a very clear understanding of the risks and impact of floods for the farmers' crops", alongside measures to limit their losses.
Insuring crops
Up north across the border in the lower Karnali region of Nepal, farmer Salina Chaudhary, 28, tills a tiny plot of land – where she faces seasonal floods that are becoming more unpredictable and damaging.
Last year, her crops were insured for the first time under a new policy for farmers launched by Practical Action – and when flooding struck, she received a payout to cover the damage.
A boat used by community volunteers under Practical Action's flood resilience programme to rescue people during flooding, Faridpur, Bangladesh, May 21, 2023, Thomson Reuters Foundation/Md. Tahmid Zami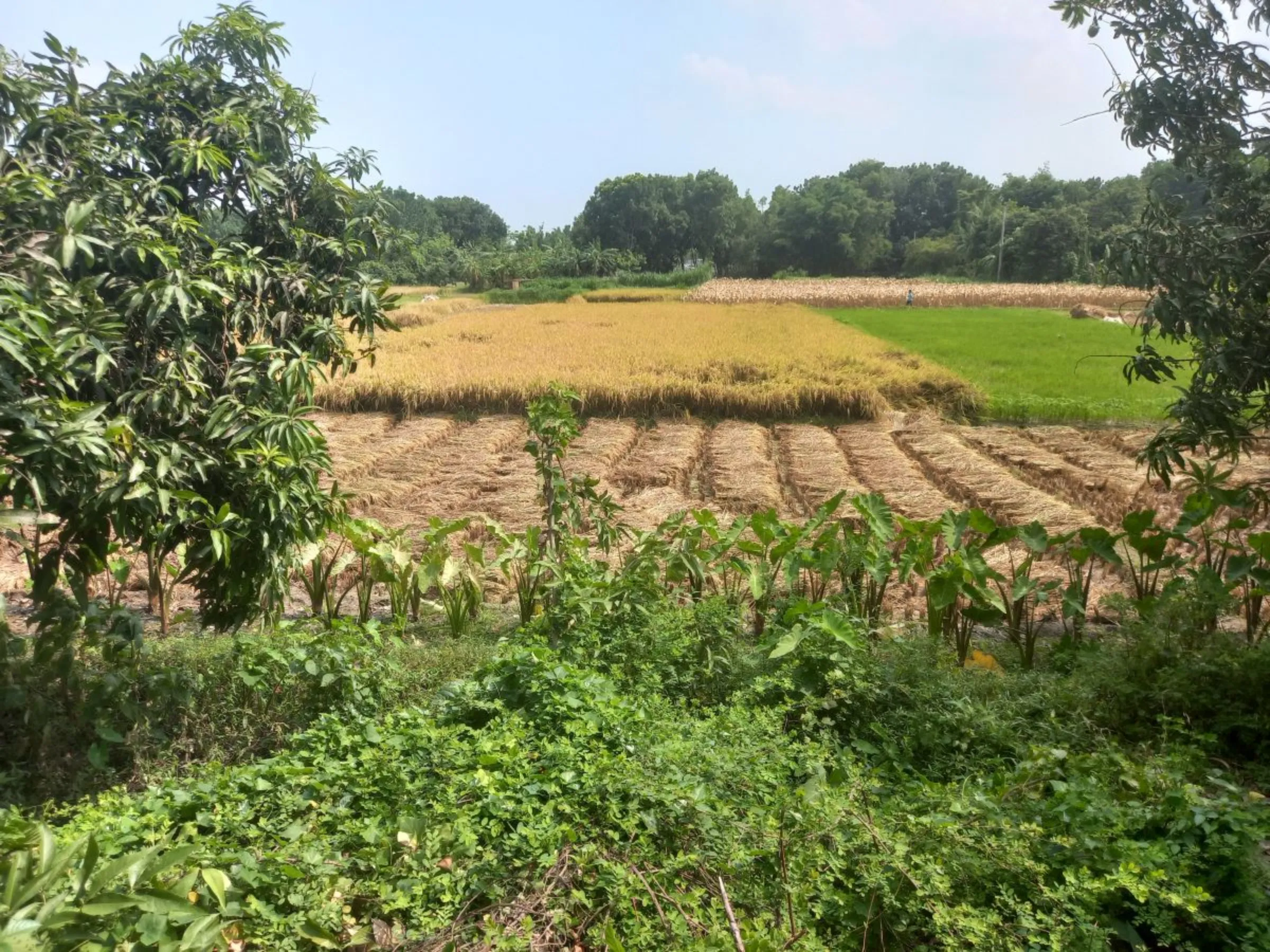 A boat used by community volunteers under Practical Action's flood resilience programme to rescue people during flooding, Faridpur, Bangladesh, May 21, 2023, Thomson Reuters Foundation/Md. Tahmid Zami
Practical Action has designed its small-scale climate insurance to be affordable. In the pilot phase, it fixed premiums based on farmers' ability to pay – and partly subsidised them.
Making insurance attractive for farmers also requires fast and transparent payouts. In Nepal, money is released within a few days of the government's hydro-meteorological department issuing notice of a flood.
Saleemul Huq, director of the Dhaka-based International Centre for Climate Change and Development (ICCCAD), said the insurance industry could help pay for the loss and damage caused by climate disasters.
He said ground-level efforts can work hand in hand with larger schemes such as the Global Shield against Climate Risks, which unites a group of 58 climate-vulnerable nations and G7 wealthy economies to mobilise insurance and other funding.
"The government and donors can subsidise the premium for climate-related insurance – and when there is a disaster, these insurance companies can pay out to the farmers and the affected people," he added.
Green finance
Other private organisations working in Bangladesh are also piloting climate insurance, especially for agriculture.
Tanvir Rahman Dhaly, who leads on inclusive finance for K.M. Dastur, an international insurance broking and risk advisory firm, said it is designing various types of climate-related insurance.
Bangladesh has dozens of companies offering insurance products, but "they are not moving into climate or agricultural insurance as they do not find it feasible", he noted.
Around the world, insurance costs are going up as climate disasters hit harder and more often, disproportionately affecting vulnerable households.
K.M. Dastur is hoping to find solutions adapted to the economic reality of poor, vulnerable farmers, Dhaly said.
It is teaming up with several microfinance institutions to reach 4-5 million people with a combination of small loans and insurance, while also advising farmers on how to tend to crops and livestock for the best results.
Its partners include the SAJIDA Foundation, a nonprofit that has tried to bridge green investment by the private sector and climate adaptation through its microfinance operations.
Last year, it launched Bangladesh's first green bond, raising 1.1 billion taka ($10.3 million) from private-sector organisations, which it used to make small loans to farmers and poor families across the 36 districts where it operates.
One recipient, Nurul Haque Byapari, who grows rice, onions, garlic and other crops on a few acres, said the loans helped him cover losses caused by a heavy hailstorm this year which damaged his paddy fields.
Sarder Akhter Hamed, head of microfinance at the SAJIDA Foundation, said Bangladeshi businesses were encouraged to invest in the green bond with government tax breaks.
Huq of the ICCCAD noted that as Bangladesh is due to move up from the category of least-developed country to developing nation by the end of 2026, it will no longer be eligible for foreign aid earmarked for the poorest countries.
"As we graduate, we will have to explore the global financial markets, as well as the local private sector for mobilising green finance," he added.
Obstacles for the poor
Yet as development organisations roll out climate-related insurance and microfinance, experts are asking how much of it will actually benefit the poorest.
Gawher Nayeem Wahra, founder and secretary of the Disaster Forum in Bangladesh, said one obstacle is that most farmers are landless and work through contract arrangements to grow crops on land that is owned by others.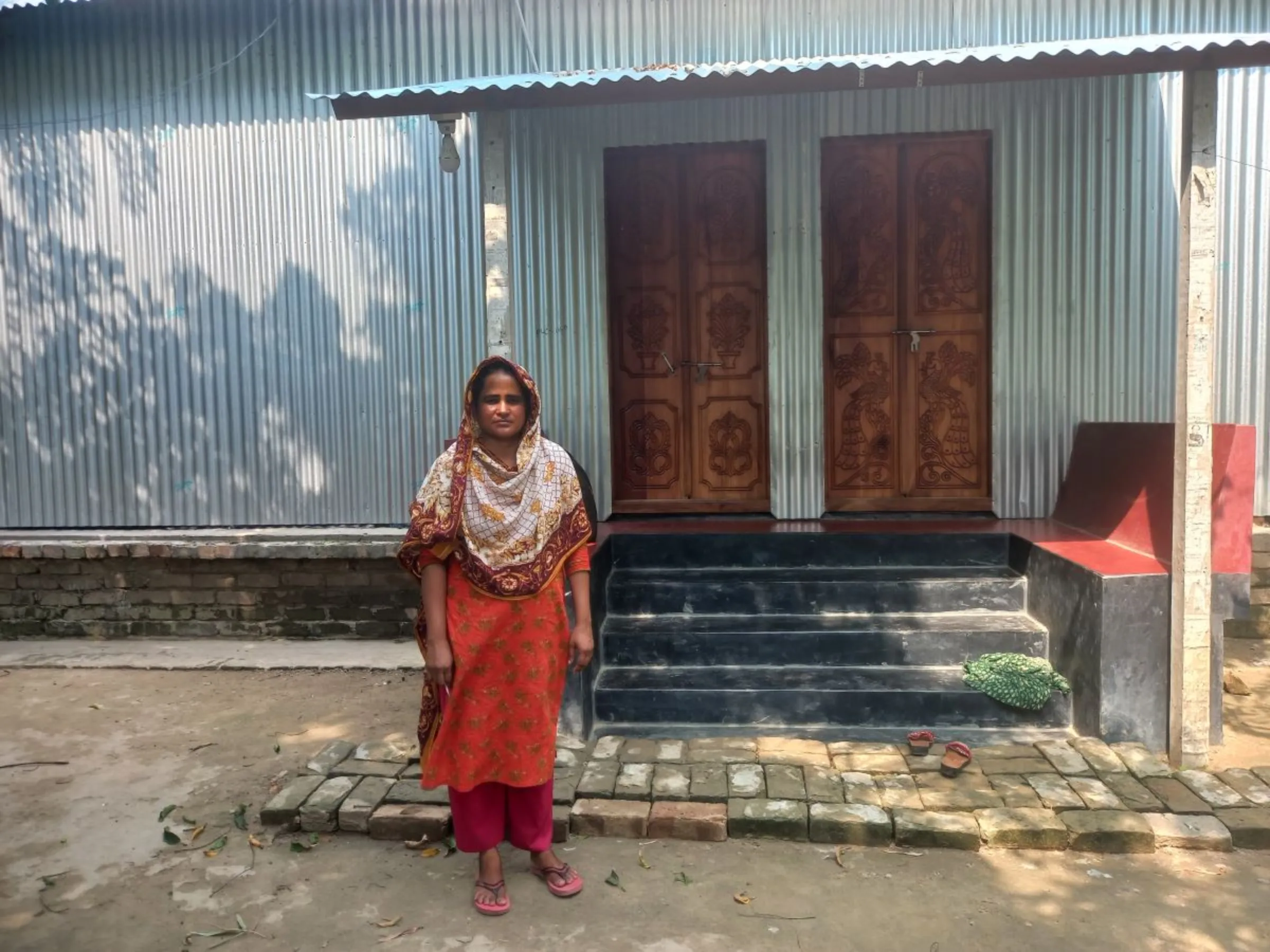 Modern equipment like combine-harvesters mostly belongs to the rich – and poor farmers get cash for selling their crops but are largely excluded from the benefits of technology, bank finance and aid after a disaster, he said.
"It all goes to the owners rather than the actual farmers," Wahra added.
There are at least 4 million landless people in rural Bangladesh. They include Sumi Akter, 25, who along with her husband and in-laws has had to move three times in the last three years due to flood and riverbank erosion.
The family relies on microfinance loans to keep rebuilding their home – but Akter says the interest rates are high for people like her, at around 25-27%.
Wahra and other experts said such loans – along with micro-insurance – should be subsidised by governments, aid agencies and others so they can be offered at low-to-zero interest.
Akter said her family is used to living with annual floods, which deposit alluvium on the land, making it fertile and slashing the need for costly fertilisers and irrigation.
"But we need help to tackle the damages," she emphasised.
($1 = 106.9300 taka)
(Reporting by Md. Tahmid Zami; editing by Megan Rowling)
<This article was published in Context powered by Thompson Reuters Foundation on 30th May 2023 and shared here. The original article can be accessed here.>